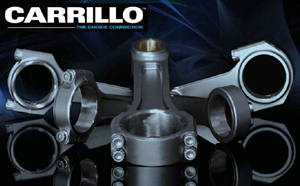 Carrillo Pro H, Pro A & Pro SA Rods

Get a FREE Cometic Gasket
Right NOW!
We are giving away a FREE Cometic Gasket to EVERY customer who orders a set of both Pistons & Rods. What are you waiting for? Mix and Match any Piston & Rod set!

Contact Us to Order!
Single Rods also available,
contact us for pricing.


Carrillo Rods - All Engines
Every Carrillo rod is designed through extensive research and development with the support of some of the biggest names in motorsports. Carrillo rods are a great compliment to our CP Pistons line and are available in PRO H, Pro A or Pro SA beams. All of our products represent the highest quality and are engineered for maximum power.