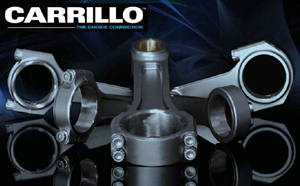 Carrillo Pro H, Pro A & Pro SA Rods

Contact Us to Order!
Single Rods also available,
contact us for pricing.
Carrillo Rods
Fiat/Lancia

Every Carrillo rod is designed through extensive research and development with the support of some of the biggest names in motorsports. Carrillo rods are a great compliment to our CP Pistons line and are available in PRO H, Pro A or Pro SA beams. All of our products represent the highest quality and are engineered for maximum power.
Set balanced to + or – 1 gram
Most available in A, SA or H- Beam Style
Taper or Straight blade
Available with CARR or WMC fasteners
Laser Edged
100% Magnaflux inspected
Fully Machined
USA Made
Pro H = straight blade
Pro-SA / Pro-A = taper blade
H= H-11 tool steel bolts
S= CARR Multiphase bolts