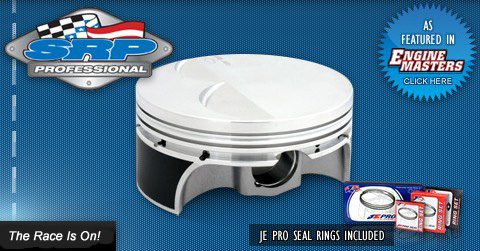 SRP Professional Pistons
Piston Set Includes: pistons, wrist pins, JE Pro Seal Premium Piston Rings

SRP Professional pistons include features used in professional racing such as lightweight forged side relief (FSR) forgings, high quality wrist pins, and precision CNC machined ring grooves and skirts. In addition, every package includes JE Pro Seal Premium Piston Rings. The included ring set features a 1.2 premium steel top ring, 1.5mm Napier (hooked face) second ring and 3.0mm standard tension oil ring

Acura l Chrysler/Dodge l Ford l Honda l Mitsubishi l Nissan l Toyota
No high import / shipping costs and fees anymore.
Just order the parts here at Flatlander Performance Parts in the Netherlands.
---

All prices on website are without (exclude) salestax of 21 percent; MWST of 21 percent; BTW of 21 percent

Email:

Sales@Flatlander-IPP.nl


Office:

0031 (0) 545-291505


Cell: 0031 (0) 6-23360358
FAX

:

0031 (0) 545295648

Mailing Address:
(no store location, we're online only):
Flatlander-IPP Nederland
Postadres: Oudestraat 75
7161 DT Neede
Nederland

Home l Ordering l

Contact

l

Links





Policies



You can also visit our online warehouse for the
UK, Denmark, Finland, Ireland, Norway, Scotland and Sweden
www.Flatlander-IPP.co.uk
© Flatlander Racing/IPP 2007-12





Site Designed by

Jill Marchand


Site Rebuilt by OnnO